"To Die For" Rich Chocolate Flavor
Without Resorting To Unhealthy, Refined Sugars!
When we began creating this formula, I demanded that Cacao Bliss not just be the healthiest, but the TASTIEST raw cacao powder on the planet.
Unless we could make a final version that felt magical the second it touched your lips without "white sugar" or other unhealthy, diabetes-causing sweetener, I wouldn't be satisfied. I wanted to give you a rich, chocolatey, non-bitter flavor you could enjoy without resorting to refined sugar.
To do this, we added my favorite, 100% healthy sweetener, called Monk Fruit.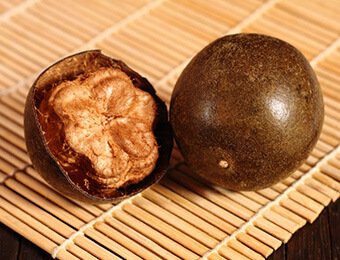 Monk Fruit is an Asian fruit that looks like a tiny watermelon. Yet it satisfies your sweet tooth as well as sugar, with zero calories and no ill effect on your blood sugar.
Plus it's great at helping your system heal wounds faster by inhibiting bacteria growth.
Next, we also added just a touch of coconut nectar.
Unlike table sugar, coconut nectar contains a unique fiber known as inulin, which acts as a prebiotic and feeds the healthy gut bacteria in your lower intestine.
In one study in the Diabetes & Metabolism Journal revealed that inulin might improve glycemic control.
To give you an extra burst of chocolate flavor we also added a small amount of organic cocoa powder, so each sip gives you a rich, smooth, velvety taste with no grittiness.
Plus, as an extra shot of flavor we also included: