Do NOT hit your back button!
Your order isn't yet complete! Pressing your back button can cause errors with your order.

Check Out This Special

"Absorption

Upgrade"

For New Golden Superfood Bliss Customers Only...
As you already know, Golden Bliss is going to…
Slash your cravings so you can lose weight much more effortlessly…
Soothe your stress so you feel peaceful, happy and relaxed each day…
Promote deep, restful sleep so you wake up feeling young and vibrant each day...
So why not TRIPLE the superfood power?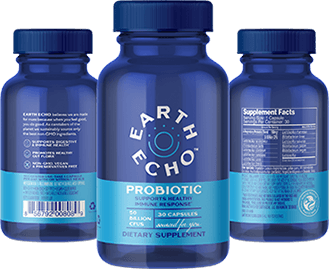 You can do just that – with Earth Echo Probiotic.
Have you "tried it all" already? Have you gone hungry for days, even weeks, without any effect? Maybe you've even tried completely starving yourself... and still the scale won't budge.
Have you been busting your butt at the gym – seemingly working harder than anyone else – and still can't lose the tummy?
Maybe you've even considered giving up altogether...
You're not alone! Believe it or not, there are millions of people who feel exactly the same way.
The thing that may be holding you back... the real reason you can't get control over your body... it's in your gut.
I've learned a lot in my career as a fitness professional and personal trainer. I've helped THOUSANDS of women gain the body of their dreams. And in my work, I've discovered a common factor… a simple trick that most of my clients didn't know… and it doubled their results!
The Secret

Lies

In

Your

GUT...
Americans are walking around with as much as 10-20 POUNDS of undigested waste stuck in their colons...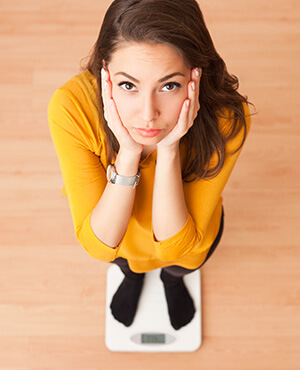 ... how much are YOU dragging around?
That waste is fat you've already burned… weight loss you've already earned! But it simply can't leave your body when your digestion is poor. Think of how long it takes a bathtub to empty when the drain is clogged up...
It gets worse!
If your gut is filled with BAD bacteria, you're being robbed of the vital nutrients you should be getting. You're essentially FEEDING that energy-sucking bacteria.
That means any expensive vitamins, minerals and superfoods (like the ones inside Golden Superfood Bliss) you eat are mostly wasted...
...gone right down the drain – along with your hard-earned money.
Because the fact is...
You're Not What You Eat... You're What You Absorb!
If you want to really get the most out of your new Golden Superfood Bliss... and the most out of EVERYTHING you eat in the future... then you need to prepare your gut.
Earth Echo Probiotic will blast that bad bacteria and replace them with a healthy, living culture of good bacteria. And when you're gut microbiome is balanced, you can finally make full use of ALL the nutrition you take in.
So if you want to:
Supercharge the results you get from Golden Superfood Bliss...
Experience more all-day energy...
And get the MOST nutrients from your food...
You NEED to take a probiotic that WORKS.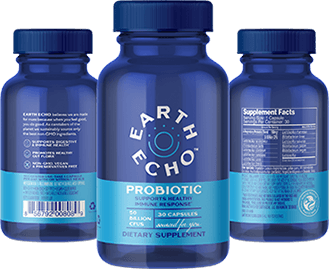 With Earth Echo Probiotic, all it takes is ONE CAPSULE a day. That's it! There's no simpler way to regain your vitality... renew your radiance... and feel joyfully fresh once again.
12 Broad Spectrum Super Strainst Each strain of powerful probiotics serves a customized, unique purpose to promote digestive health, weight loss, and fight fatigue *
50 Billion Colony Forming Units More than twice the amount of helpful, good-gut bacteria as other leading brands.
Easy To Take No confusing comparing, mixing and matching, or stacking with other probiotics. Everything you need is in one super simple capsule.
Vegan, Gluten Free, 100% All Natural Other probiotic brands insert fillers, milk cultures, and hidden grain-based ingredients. Earth Echo Probiotic was created with our vegan and gluten free friends in mind. This is food, not medicine. Earth Echo Probiotic strives to use highest quality ingredients, without any additives.
Only 1 Capsule Per Day Other probiotics require multiple doses, spaced out through the day. You only need to take Earth Echo Probiotic once everyday. No more setting reminders or counting capsules.
12 Broad Spectrum

Super

Strains

In One Bottle!*
Lactobacillus Acidophilus

Ever have trouble digesting dairy? This foundational strain works with your digestive tract to smooth out these annoying digestion problems.
Bifidobacterium Lactis

Get sick more than you'd like? Keep your immune system functioning so it can stave off infection with this immune boosting strain.
Lactobacillus Plantarum

Your gut is the perfect place for bad bacteria to hang around. This bacteria fighter helps keep the balance of good vs. evil, and can even help maintain healthy blood sugar levels.
Lactobacillus Paracasei

These little guys help keep allergies at bay, while also helping to keep fat from being stored in your gut… it's a real super-strain!
Lactobacillus Casei

Works alongside lactobacillus acidophilus to support healthy cholesterol levels.
Bifidobacterium Breve

Bye Bye Fat! Increasing evidence shows this strain helps release stored fat and also slows down future fat storage. Amazing!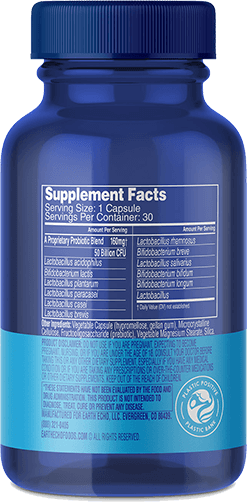 Lactobacillus Brevis

If you take ANTI-biotics, PRO-biotics like L. Brevis help protect your healthy good gut bacteria.
Bifidobacterium Bifidum

Maintaining a healthy inflammatory response is this strains super-power. No wonder it has also been shown to calm symptoms related to IBS.
Lactobacillus Gasseri
If promoting a healthy gut microflora while reducing "bad" bacteria is something you want, your gut will LOVE this strain, In fact, it naturally shows up in healthy guts!
Bifidobacterium Longum

Digestion, Digestion, Digestion! Look no further than this super-strain that is known to help proper digestion so you can feel a much calmer tummy (even after heavy meals!)
Lactobacillus Salivarius

Sore when you swallow? This strain is shown to prevent common infections, especially those leading to strep throat.
Bifidobacterium Rhamnosus

If you want a well-oiled metabolism so your body can efficiently use all the fuel from food — rather than storing those extra calories as fat, this strain is a must!
The Iron-Clad Earth Echo
triple guarantee:
Quality As with everything Earth Echo has to offer, Earth Echo Probiotic is made with only the finest ingredients. Each element is carefully selected and tested. We NEVER compromise on quality.
Results You'll notice results within the first week of taking Earth Echo Probiotic. And those effects will continue to increase as you take it daily for 30 days and more.
Impact Your life will change with the results you feel. With less bloating, better digestion, clearer thinking, and improved weight loss, every aspect of your life will feel the boost.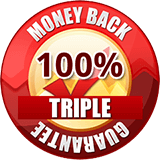 I personally stand by every statement made here today. And if you discover for any reason that this isn't for you, you are completely protected by our 60 Day Money Back Guarantee.
Remember, we're in this together.
Get 3 bottles of Earth Echo Probiotic

NOW

for

the

low

price

of

$129!
(One Time Purchase) That's a savings of $79.90!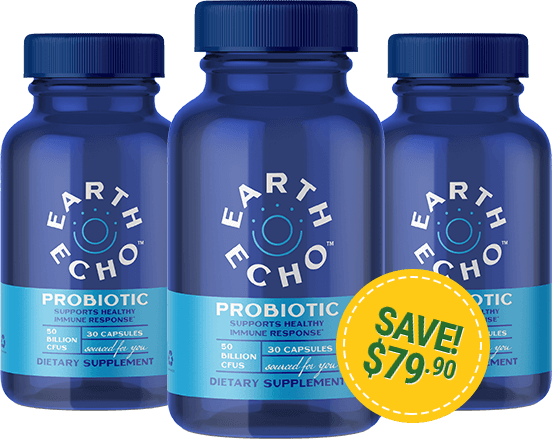 $129
One Time Purchase
(One-Time Charge)
Click to add this to your order!

Yes! Please add the Earth Echo Probiotics to my order

at the low price of $129 (Savings of $79.90)
Or...
No thanks, I'll take my chances